Soccer is a pretty game, has evolved over the years, and so has the diversity of its players. Gone are the days when height was a defining factor in choosing soccer players.
Nowadays, the game has versatility and talent, regardless of physical attributes. But, exploring how height can still play a significant role in a player's style and effectiveness on the field is fascinating.
In this article, we'll delve into the lives and careers of the top seven tallest female soccer players who have left a lasting impact on the sport.
Does Height Matter in Soccer?
Before diving into the stories of these great athletes, let's discuss whether height truly matters in soccer. While soccer is often associated with agility, finesse, and skill, height can give some players unique advantages.
For instance, taller players tend to have a greater advantage when heading the ball, which can be a crucial aspect of offense and defense. Additionally, taller goalkeepers often have a more extensive reach, making it challenging for opponents to score goals.
While shorter players may have better ball control and be more agile, strategies are shaped to accommodate players of all heights in the modern game. Now making height just one factor contributing to a player's overall performance.
Top 7 Tallest Female Soccer Players in the World
| | | | |
| --- | --- | --- | --- |
| Nationality | Player | Height | Position |
| France | Wendie Renard | 1.87 m | DF |
| USA | Taylor Kornieck | 1.85 m | MF |
| USA | Sam Mewis | 1.83 m | MF |
| USA | Abby Wambach | 1.8 m | FW |
| Germany | Birgit Prinz | 1.79 m | FW |
| Norway | Ada Hegerberg | 1.76 m | FW |
| Norway | Graham Hansen | 1.74 m  | FW |
1. Wendie Renard | 1.87 m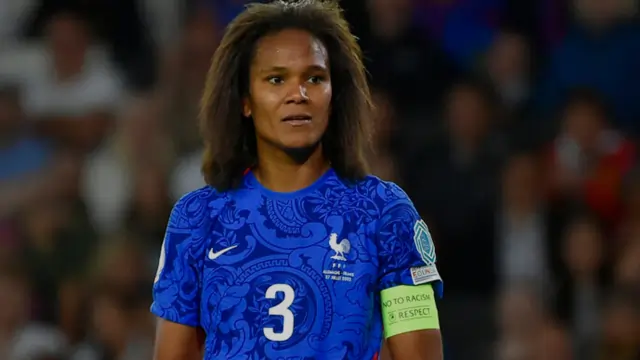 Wendie Renard is one of the tallest female soccer players of all time, with a height of 1.87 meters.
Renard is a French professional footballer born on 20th July 1990.
She's a true force on the field, playing as a center-back and holding the captaincy for the Division 1 Féminine club Lyon and the France National Team
.
She has an edge in aerial battles due to her height, making her a powerful offensive and defensive force in the game
. Wendie
has won 8 European Cups & 14 French League Titles. She became one of the top female football players due to their skills.
Her impact on Lyon has been so immense that, in 2019, the New York Times referred to her as an "institution" at the club.
Lyon is well-known for being a successful club in European female soccer.
And Wendie's contributions to Lyon Club have been crucial to their success.
Wendie talent, leadership, and dedication have earned her a place among the greatest and wealthiest women footballers
.
2. Taylor Kornieck | 1.85 m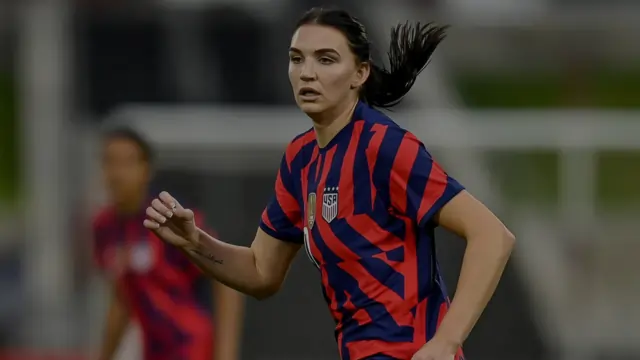 Taylor Kornieck is in 2nd place on our list of tallest women soccer players worldwide. Kornieck is an American midfielder who is 1.85 meters tall and is a rising star in women's soccer. She is a valuable part of her squad due to her height and flexibility on the field.

Her passing ability and vision

are complemented by

her strong presence in midfield, providing stability to her team's gameplay

.
Kornieck's professional career began when she joined Orlando Pride in the Women's National Soccer League
. In the Women's National Soccer League, she is now a San Diego Wave FC Club midfielder.

3. Sam Mewis | 1.83 m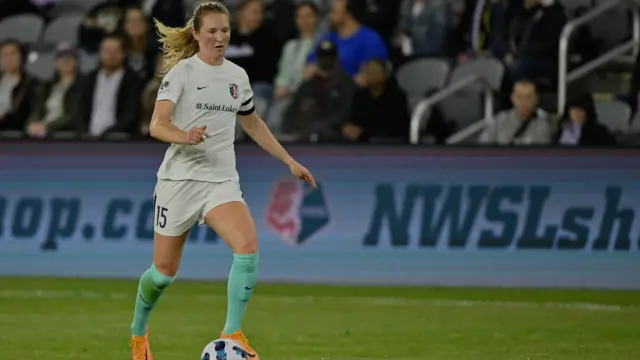 Sam Mewis secured a place on our list of tallest women footballers with an impressive height of 1.83 meters.
Samantha is a talented USA professional footballer born on 9th October 1992.
She plays for the Kansas City Current in the National Women's Soccer League and is known for her excellent midfielder abilities.
Samantha's soccer journey began during college when she showed her abilities as part of the UCLA Bruins football squad

.

Taking her career to the next level, Samantha made her club debut in 2013 when she signed with the Pali Blues of the W-League

.
She is also a key player for the USA Women's National Team, helping them secure victories in major tournaments like the Women's World Cup
.
4. Abby Wambach | 1.8 m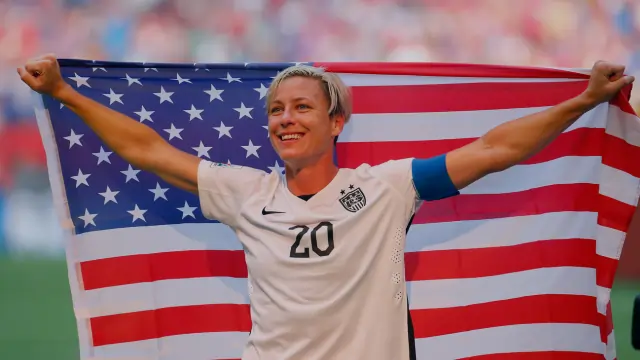 Abby Wambach is one of the most recognized names among tall female soccer players, with a height of 1.8 meters. Mary Abigail Wambach is a retired American soccer player born on 2nd June 1980. Wambach was a powerhouse forward known for her extraordinary heading ability.
She achieved great heights as a player and coach and now holds a place in the National Soccer Hall of Fame. Wambach had an innate sense of timing of aerial challenges, helping her to score crucial goals.
She played for clubs like magicJack & Washington Freedom in the Professional Women's Soccer League. But, her time with the USA Women's National Team defined her legacy.
Wambach made the 2015 FIFA Women's World Cup and two Olympic gold medals possible for her team. Her ability to deliver the ball in challenging situations and her leadership qualities made her an inspiration for other soccer players worldwide.
5. Birgit Prinz | 1.79 m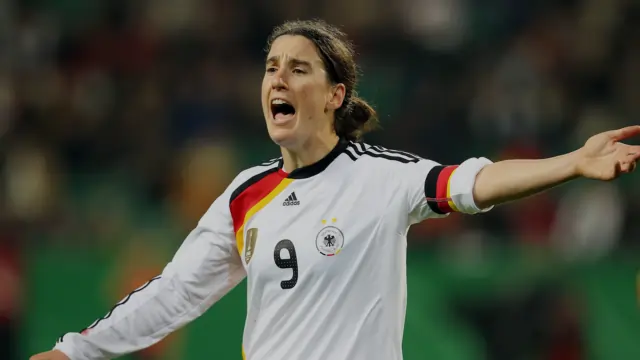 Birgit Prinz is one of the top 5 tallest soccer players in the world, with a height of 1.79 meters. She, born on 25th October 1977, is a remarkable German footballer.
Even today, Birgit is recognized as one of the most prolific strikers in the game's history. With her incredible skills on the field, she becomes the second leading goalscorer in the Women's World Cup, with 14 goals.
Read More: Women's World Cup Winners List
Prinz's career was highlighted by her time at 1. FFC Frankfurt, where she won many domestic and international titles. She also played a vital role in leading the German Women's National Team to two FIFA World Cup victories in 2003 and 2007.
6. Ada Hegerberg | 1.76 m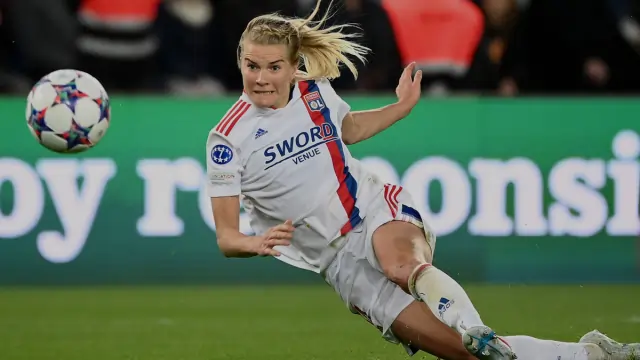 Ada Hegerberg, the Norwegian striker who is 1.73 meters tallest, is a goal-scoring machine on the field. Her height and athleticism enable her to outmaneuver defenders and score.

Her goal-scoring exploits earned her many awards, including the Ballon d'Or Féminin 2018

.
Ada's football journey began early, representing Norway at the youth international level. All her hard work and dedication finally resulted in 2011 when she debuted for the senior team. Playing for Olympique Lyonnais, Hegerberg has won many domestic and European titles.
Her goal-scoring prowess has also given to her performances for the Norwegian Women's National Team, making her one of the most feared strikers in the world

.
7. Graham Hansen | 1.74 m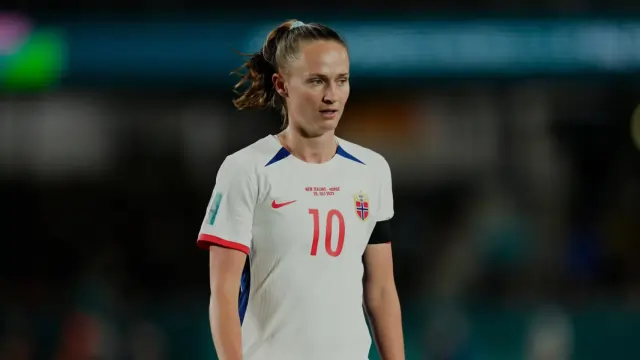 Graham Hansen is one of the tallest female soccer players in the world. Caroline Graham Hansen is a Norwegian winger who is 1.73 meters tall. She is a prime example of how height and skill combine to create a formidable player.
Hansen uses her height to shield the ball from defenders and maintain control during her dazzling runs down the flank. She dazzles audiences with her skills as a vital Spanish Liga F club FC Barcelona member. And also plays a crucial role in the Norway women's national team.

Caroline's journey in professional football began in the Norwegian Toppserien, where she played for Stabæk.
One of the best moments in her career was when, at 18 years old, Caroline played a key role in Norway's success at the UEFA Women's Euro 2013. Caroline's services helped the Norwegian team win the silver medal in the competition.