The 32-team qualifying tournament for the FIFA World Cup 2022 in Qatar will be the last. According to the FIFA Association, the World Cup in Qatar is the first to have 32 teams. At the same time, the 2026 FIFA World Cup in the United States is set to involve 48 teams.
The host nation, Qatar, is eligible, as well as all 32 teams. On December 2, 2010, hosting permissions were granted in recognition of the merit process.
In June, a complete list of the teams qualified for the event and the host team in Qatar is decided. In addition, the schedule for each group and qualified team has been made public.
Eight groups (from A to H Group) of 32 teams from different nations will compete in eight stadiums spread over five other locations in Qatar.
FIFA World Cup 2022 Points Table
| | | | | | | | | |
| --- | --- | --- | --- | --- | --- | --- | --- | --- |
| Team | PTS | GP | W | L | D | GF | GA | GD |
| Netherlands | 7 | 3 | 2 | 0 | 1 | 5 | 4 | 2 |
| Senegal | 4 | 3 | 2 | 1 | 0 | 5 | 1 | 0 |
| Ecuador | 6 | 3 | 1 | 1 | 1 | 4 | 1 | 2 |
| Qatar | 0 | 3 | 0 | 3 | 0 | 1 | -6 | -4 |
| | | | | | | | | |
| --- | --- | --- | --- | --- | --- | --- | --- | --- |
| Team | PTS | GP | W | L | D | GF | GA | GD |
| England | 7 | 3 | 2 | 0 | 1 | 9 | 2 | 7 |
| USA | 5 | 3 | 1 | 0 | 2 | 2 | 1 | 1 |
| Iran | 3 | 3 | 1 | 2 | 0 | 4 | 7 | -3 |
| Wales | 1 | 3 | 0 | 2 | 1 | 1 | 6 | -5 |
| | | | | | | | | |
| --- | --- | --- | --- | --- | --- | --- | --- | --- |
| Team | PTS | GP | W | L | D | GF | GA | GD |
| Argentina | 6 | 3 | 2 | 1 | 0 | 5 | 2 | 3 |
| Poland | 4 | 3 | 1 | 1 | 1 | 2 | 2 | 0 |
| Mexico | 4 | 3 | 1 | 1 | 1 | 2 | 3 | -1 |
| Saudi Arabia | 3 | 3 | 1 | 2 | 0 | 3 | 5 | -2 |
| | | | | | | | | |
| --- | --- | --- | --- | --- | --- | --- | --- | --- |
| Team | PTS | GP | W | L | D | GF | GA | GD |
| France | 6 | 3 | 2 | 1 | 0 | 6 | 3 | 3 |
| Australia | 6 | 3 | 2 | 1 | 0 | 3 | 4 | -1 |
| Tunisia | 4 | 3 | 1 | 1 | 1 | 1 | 1 | 0 |
| Denmark | 1 | 3 | 0 | 2 | 1 | 1 | 3 | -2 |
| | | | | | | | | |
| --- | --- | --- | --- | --- | --- | --- | --- | --- |
| Team | PTS | GP | W | L | D | GF | GA | GD |
|  Japan | 6 | 3 | 2 | 1 | 0 | 4 | 3 | 1 |
| Spain | 4 | 3 | 1 | 1 | 1 | 9 | 3 | 6 |
| Germany | 4 | 3 | 1 | 1 | 1 | 6 | 5 | -1 |
| Costa Rica | 13 | 3 | 1 | 2 | 0 | 3 | 11 | -8 |
| | | | | | | | | |
| --- | --- | --- | --- | --- | --- | --- | --- | --- |
| Team | PTS | GP | W | L | D | GF | GA | GD |
| Morocco | 7 | 3 | 2 | 0 | 1 | 4 | 1 | 3 |
| Croatia | 5 | 3 | 1 | 0 | 2 | 4 | 1 | 3 |
|  Belgium | 4 | 3 | 1 | 1 | 1 | 1 | 2 | -1 |
| Canada | 0 | 3 | 0 | 1 | 0 | 2 | 7 | -5 |
| | | | | | | | | |
| --- | --- | --- | --- | --- | --- | --- | --- | --- |
| Team | PTS | GP | W | L | D | GF | GA | GD |
| Brazil | 6 | 3 | 2 | 1 | 0 | 3 | 1 | 2 |
| Switzerland | 6 | 3 | 2 | 1 | 0 | 4 | 3 | 1 |
| Cameroon | 4 | 3 | 1 | 1 | 1 | 4 | 4 | 0 |
| Serbia | 0 | 3 | 0 | 2 | 1 | 5 | 8 | -3 |
| | | | | | | | | |
| --- | --- | --- | --- | --- | --- | --- | --- | --- |
| Team | PTS | GP | W | L | D | GF | GA | GD |
| Portugal | 6 | 3 | 2 | 1 | 0 | 6 | 4 | 2 |
| South Korea | 4 | 3 | 1 | 1 | 1 | 4 | 4 | 0 |
| Uruguay | 4 | 3 | 1 | 1 | 1 | 2 | 2 | 0 |
| Ghana | 3 | 3 | 1 | 2 | 0 | 5 | 7 | -2 |
FIFA World Cup 2018 Points Table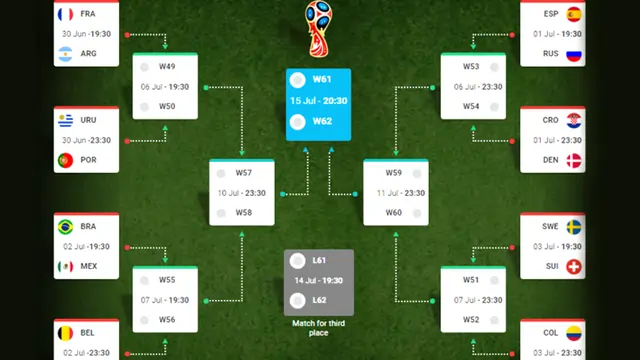 Group A
| | | | | | |
| --- | --- | --- | --- | --- | --- |
| Team | P | W | D | L | Points |
| Uruguay | 3 | 3 | 0 | 0 | 9 |
| Russia | 3 | 2 | 0 | 1 | 6 |
| Saudi Arabia | 3 | 1 | 0 | 2 | 3 |
| Egypt | 3 | 0 | 0 | 3 | 0 |
Group B
| | | | | | |
| --- | --- | --- | --- | --- | --- |
| Team | P | W | D | L | Points |
| Spain | 3 | 2 | 1 | 0 | 5 |
| Portugal | 3 | 2 | 1 | 0 | 5 |
| Iran | 3 | 1 | 1 | 1 | 4 |
| Morocco | 3 | 0 | 1 | 2 | 1 |
Group C
| | | | | | |
| --- | --- | --- | --- | --- | --- |
| Team | P | W | D | L | Points |
| France | 3 | 2 | 1 | 0 | 7 |
| Denmark | 3 | 1 | 2 | 0 | 5 |
| Peru | 3 | 1 | 0 | 2 | 3 |
| Australia | 3 | 0 | 1 | 2 | 1 |
Group D
| | | | | | |
| --- | --- | --- | --- | --- | --- |
| Team | P | W | D | L | Points |
| Croatia | 3 | 3 | 0 | 0 | 9 |
| Argentina | 3 | 1 | 1 | 1 | 4 |
| Nigeria | 3 | 1 | 0 | 2 | 3 |
| Iceland | 3 | 0 | 1 | 2 | 1 |
Group E
| | | | | | |
| --- | --- | --- | --- | --- | --- |
| Team | P | W | D | L | Points |
| Brazil | 3 | 2 | 1 | 0 | 7 |
| Switzerland | 3 | 1 | 2 | 0 | 5 |
| Serbia | 3 | 1 | 0 | 2 | 3 |
| Costa Rica | 3 | 0 | 1 | 2 | 1 |
Group F
| | | | | | |
| --- | --- | --- | --- | --- | --- |
| Team | P | W | D | L | Points |
| Sweden | 3 | 2 | 0 | 1 | 6 |
| Mexico | 3 | 2 | 0 | 1 | 6 |
| South Korea | 3 | 1 | 0 | 2 | 3 |
| Germany | 3 | 1 | 0 | 2 | 3 |
Group G
| | | | | | |
| --- | --- | --- | --- | --- | --- |
| Team | P | W | D | L | Points |
| Belgium | 3 | 3 | 0 | 0 | 9 |
| England | 3 | 2 | 0 | 1 | 6 |
| Tunisia | 3 | 1 | 0 | 2 | 3 |
| Panama | 3 | 0 | 0 | 3 | 0 |
Group H
| | | | | | |
| --- | --- | --- | --- | --- | --- |
| Team | Play | W | D | L | Points |
| Colombia | 3 | 2 | 0 | 1 | 6 |
| Japan | 3 | 1 | 1 | 1 | 4 |
| Senegal | 3 | 1 | 1 | 1 | 4 |
| Poland | 3 | 1 | 0 | 2 | 3 |
FIFA World Cup 2014 Points Table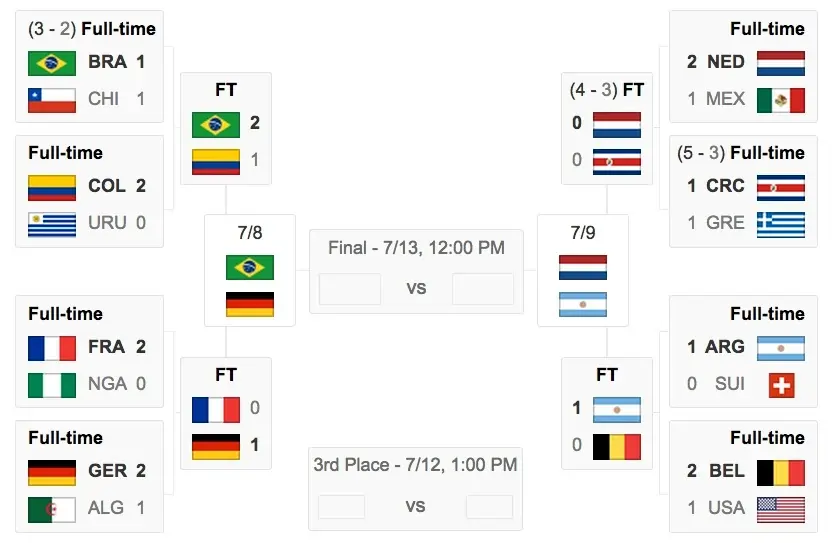 Group A
| | | | | | |
| --- | --- | --- | --- | --- | --- |
| Team | P | W | D | L | Points |
| Brazil | 3 | 2 | 1 | 0 | 7 |
| Mexico | 3 | 2 | 1 | 0 | 7 |
| Croatia | 3 | 1 | 0 | 2 | 3 |
| Cameroon | 3 | 0 | 0 | 3 | 0 |
Group B
| | | | | | |
| --- | --- | --- | --- | --- | --- |
| Team | P | W | D | L | Points |
| Netherlands | 3 | 3 | 0 | 0 | 9 |
| Chile | 3 | 2 | 0 | 1 | 6 |
| Spain | 3 | 1 | 0 | 2 | 3 |
| Australia | 3 | 0 | 0 | 3 | 0 |
Group C
| | | | | | |
| --- | --- | --- | --- | --- | --- |
| Team | P | W | D | L | Points |
| Colombia | 3 | 3 | 0 | 0 | 9 |
| Greece | 3 | 1 | 1 | 1 | 4 |
| Ivory Coast | 3 | 1 | 0 | 2 | 3 |
| Japan | 3 | 0 | 1 | 2 | 1 |
Group D
| | | | | | |
| --- | --- | --- | --- | --- | --- |
| Team | P | W | D | L | Points |
| Costa Rica | 3 | 2 | 1 | 0 | 7 |
| Uruguay | 3 | 2 | 0 | 1 | 6 |
| Italy | 3 | 1 | 0 | 2 | 3 |
| England | 3 | 0 | 1 | 2 | 1 |
Group E
| | | | | | |
| --- | --- | --- | --- | --- | --- |
| Team | P | W | D | L | Points |
| France | 3 | 2 | 1 | 0 | 7 |
| Switzerland | 3 | 2 | 0 | 1 | 6 |
| Ecuador | 3 | 1 | 1 | 1 | 4 |
| Honduras | 3 | 0 | 0 | 3 | 0 |
Group F
| | | | | | |
| --- | --- | --- | --- | --- | --- |
| Team | P | W | D | L | Points |
| Argentina | 3 | 3 | 0 | 0 | 9 |
| Nigeria | 3 | 1 | 1 | 1 | 4 |
| Bosnia and Herzegovina | 3 | 1 | 0 | 2 | 3 |
| Iran | 3 | 0 | 1 | 2 | 1 |
Group G
| | | | | | |
| --- | --- | --- | --- | --- | --- |
| Team | P | W | D | L | Points |
| Germany | 3 | 2 | 1 | 0 | 7 |
| USA | 3 | 1 | 1 | 1 | 4 |
| Portugal | 3 | 1 | 1 | 1 | 4 |
| Ghana | 3 | 0 | 1 | 2 | 1 |
Group H
| | | | | | |
| --- | --- | --- | --- | --- | --- |
| Team | P | W | D | L | Points |
| Belgium | 3 | 3 | 0 | 0 | 9 |
| Algeria | 3 | 1 | 1 | 1 | 4 |
| Russia | 3 | 0 | 2 | 1 | 2 |
| South Korea | 3 | 0 | 1 | 2 | 1 |
FIFA World Cup 2010 Points Table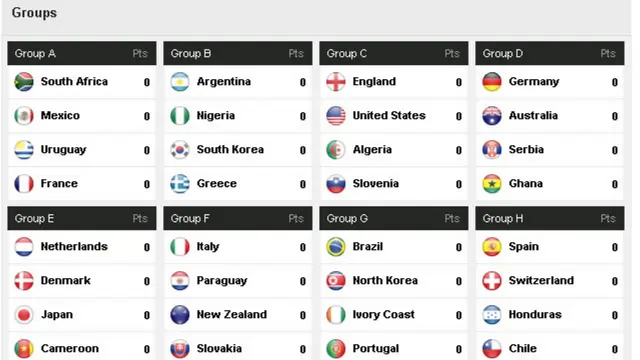 Group A
| | | | | | |
| --- | --- | --- | --- | --- | --- |
| Team | P | W | D | L | Points |
| Uruguay | 3 | 2 | 1 | 0 | 7 |
| Mexico | 3 | 1 | 1 | 1 | 4 |
| South Africa | 3 | 1 | 1 | 1 | 4 |
| France | 3 | 0 | 1 | 2 | 1 |
Group B
| | | | | | |
| --- | --- | --- | --- | --- | --- |
| Team | P | W | D | L | Points |
| Argentina | 3 | 3 | 0 | 0 | 9 |
| South Korea | 3 | 1 | 1 | 1 | 4 |
| Greece | 3 | 1 | 0 | 2 | 3 |
| Nigeria | 3 | 0 | 1 | 2 | 1 |
Group C
| | | | | | |
| --- | --- | --- | --- | --- | --- |
| Team | P | W | D | L | Points |
| USA | 3 | 1 | 2 | 0 | 5 |
| England | 3 | 1 | 2 | 0 | 5 |
| Slovenia | 3 | 1 | 1 | 1 | 4 |
| Algeria | 3 | 0 | 1 | 2 | 1 |
Group D
| | | | | | |
| --- | --- | --- | --- | --- | --- |
| Team | P | W | D | L | Points |
| Germany | 3 | 2 | 0 | 1 | 6 |
| Ghana | 3 | 1 | 1 | 1 | 4 |
| Australia | 3 | 1 | 1 | 1 | 4 |
| Serbia | 3 | 1 | 0 | 2 | 3 |
Group E
| | | | | | |
| --- | --- | --- | --- | --- | --- |
| Team | P | W | D | L | Points |
| Netherlands | 3 | 3 | 0 | 0 | 9 |
| Japan | 3 | 2 | 0 | 1 | 6 |
| Denmark | 3 | 1 | 0 | 2 | 3 |
| Cameroon | 3 | 0 | 0 | 3 | 0 |
Group F
| | | | | | |
| --- | --- | --- | --- | --- | --- |
| Team | P | W | D | L | Points |
| Paraguay | 3 | 1 | 2 | 0 | 5 |
| Slovakia | 3 | 1 | 1 | 1 | 4 |
| New Zealand | 3 | 1 | 0 | 2 | 3 |
| Italy | 3 | 0 | 2 | 1 | 2 |
Group G
| | | | | | |
| --- | --- | --- | --- | --- | --- |
| Team | P | W | D | L | Points |
| Brazil | 3 | 2 | 0 | 1 | 7 |
| Portugal | 3 | 1 | 2 | 0 | 5 |
| Ivory Coast | 3 | 1 | 1 | 1 | 4 |
| North Korea | 3 | 0 | 0 | 3 | 0 |
Group H
| | | | | | |
| --- | --- | --- | --- | --- | --- |
| Team | P | W | D | L | Points |
| Spain | 3 | 2 | 0 | 1 | 6 |
| Chile | 3 | 2 | 0 | 1 | 6 |
| Switzerland | 3 | 1 | 1 | 1 | 4 |
| Honduras | 3 | 0 | 1 | 2 | 1 |