Russia's soccer team was banned from World Cup 2022 qualification due to the war between Russia and Ukraine, so they could not compete in the 2022 tournament. But, Russian stations had previously purchased Television and internet rights from FIFA.
Some games will be televised on free-to-air channels by government Channel One and VGTRK, while all 64 matches will be streamed live online by Gazprom Media's "MatchTV" network.
How To Watch World Cup On MatchTV.Ru
MatchTV is a web-based paid service that costs just 120 Russian Rubles ($1.8) monthly. The best thing about MatchTV's online network is that everyone can use it. All you have to do is pay the membership, which is less than $2 monthly.
It provides the opportunity to anyone in the globe who does not have access to world cup broadcast in their region, or if they do, it is costly. For instance, FoxSports in the US costs at least $25 per month. We show you how to stream Matcmed live for about $2 per month. The only drawback is that it will be in Russian.
How To Watch World Cup On MatchTV.ru From Outside Russia?
However, MatchTV.ru is geo-blocked from outside Russia; therefore, for streaming to function, you must switch your Internet address to Russia. However, with the aid of a VPN, it is pretty simple to complete.
We suggest CyberGhost VPN because we used it and could access MatchTV.ru without much hassle from the UK. Among the few VPN services with servers in Russia is CyberGhost.
We show you step-by-step how to access MatchTV.ru from anywhere in the world. To start, you'll use a VPN to modify your device's Internet address to Russia.
You Also Like: How To Watch World Cup 2022 on JioCinema Streams
How To Watch World Cup on MatchTV.ru  Using VPN?
Step 1: Link to a Russian IP address using the VPN app.

Step 2: Open your regular browser and go to MatchTV.ru after connecting to a Russian Address.

Step 3: You have two choices when you click on subscription on the MatchTV.ru website. Two hundred ninety-nine rubles a month or 1440 rubles per year, depending on the bundle. Choose the 299 rubles ($4.50) package if all you wish to do is watch the World Cup.

Step 4: The following screen will request a phone number verification. You have no trouble using an international call.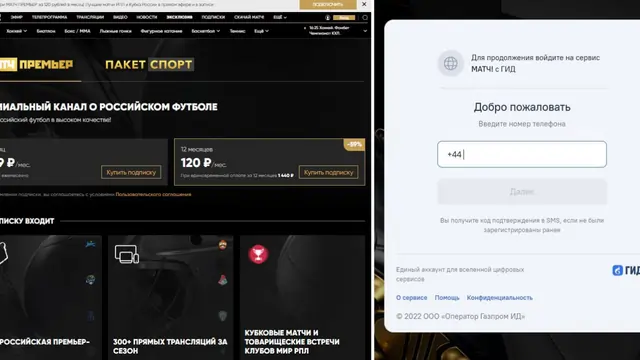 Step 5: Register the account after the phone number has been validated. Details like your name, email address, and others must be entered here.

Step 6: After the membership has been purchased and the profile has been setup. To access your account, return to matchtv.ru and sign in.

Step 7: After logging into your account, click on "broadcasts," which will display the times and matches for forthcoming matches. You can access World Cup streams from an official source by clicking the broadcast containing World Cup coverage.
As you go through the procedure and until you start watching the broadcasts, make sure you are linked to CyberGhost Russian Ip. Remember to shut off the VPN after you have finished watching MatchTV.ru.
This is just one of the numerous "How to Watch FIFA World Cup" guides we've created for various networks and nations.