What is the Benefits Program?
It's a program that was created to honor the help of football teams. Football teams that contribute to the FIFA World Cup's effective organization.

The associated clubs get a small reward from the world cup host benefits program

.
Through Member associations amount

is given

to the player's clubs participating in World Cup.
In 2008 European Club Association and FIFA set up a deal related to FIFA World Cup Club Benefits Program
.
It
was created
to honor the effort that football clubs made to the FIFA World Cup's flawless production
.
When Was the Program Made?
This program

was founded

before the 2010 South Africa FIFA World Cup. It

was created

after the partnership between the ECA and FIFA.
How Much Cash Set for FIFA World Cup 2022 Club Benefits Program
A total of $70 million

was gained

from the 2014 FIFA World Cup, while in 2010, it was US $40 million. The income given

mainly

depends on the total profit from World Cup.
In 2015 the FIFA World Cup Club Benefits program

was updated,

and according to new deals, the income amount

was significantly increased

. Each club will earn a fair percentage of $310 million for the 2018 or 2022 FIFA World Cups in Russia and Qatar.
The FIFA Professional Football Department is in charge of this procedure. But still, all process of income division is the same as in 2014.
This procedure is The contributions to which the club is eligible will be made through the Member Association. It will be handed to clubs once the successful World Cup is hosted. by the professional football division of FIFA.
Calculation & Distribution
for Club Benefits Program
A total of 32 teams play in World Cup, and each section contains 23 players, meaning a total of 736 players participate in the FIFA World Cup

.
24,500 is the estimated average number of days of involvement.
The total share amount

is divided by

the days of the event—which conclusions in share per player per day around US $8,530.
This total gain of $8,530

is multiplied by

every athlete spending days participating in the tournament even also includes two weeks before the first match of the World Cup

.
Then, the total income of each player

is given

to the clubs for which they have been playing for the last couple of years.
You Also Like: FIFA World Cup 2022 Prize Money
FIFA designed a system that doesn't permit a single continental transfer season. Instead, FIFA created the following table to compile a list of the clubs with which the regional team players were registered for two years.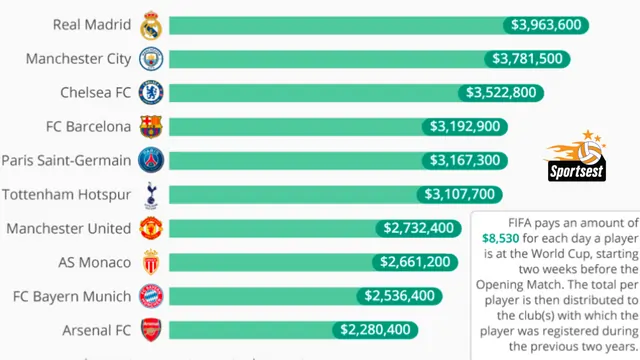 2018 World Cup

Payment Given to the Clubs at the 
| | |
| --- | --- |
| Club | Club Benefits Programme Fund |
| Real Madrid | € 3,353,700 |
| Manchester City | € 3,199,100 |
| Chelsea FC | € 2,980,300 |
| Barcelona FC | € 2,701,500 |
| Paris Saint Germain | € 2,679,500 |
| Tottenham Hotspurs | € 2,629,100 |
| Manchester United | € 2,311,700 |
| AS Monaco | € 2,251,400 |
| FC Bayern Munich | € 2,145,900 |
| Arsenal FC | € 1,929,400 |
| Juventus | € 1,909,700 |
| Atlético Madrid | € 1,869,100 |
| Al Hilal Riyadh | € 1,819,000 |
| Liverpool FC | € 1,756,000 |
| Leicester City | € 1,662,100 |
| FC Porto | € 1,645,500 |
| Benfica Lisbon | € 1,638,200 |
| Al-Ahli Jeddah | € 1,626,500 |
| El Ahly Cairo | € 1,580,700 |
| BVB Dortmund | € 1,460,200 |
| Inter Milan | € 1,423,900 |
| Borussia Monchengladbach | € 1,325,400 |
| Sporting Lisbon | € 1,253,600 |
| Locomotive Moscow | € 1,195,600 |
| SSC Naples | € 1,193,200 |
| AC Milan | € 1,188,200 |
| Zamalek SC | € 1,046,700 |
| Olympique Marseille | € 1,039,100 |
| FC Seville | € 1,019,700 |
| RSC Anderlecht | € 988,700 |